Camp Cards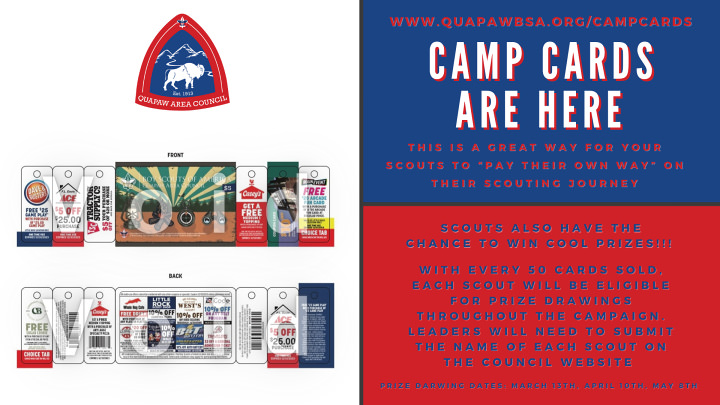 The Quapaw Area Council is pleased to present the 2023 Camp Card! The primary function of this fundraiser is designed to help Scouts earn their way to summer camp, Cub/Webelos weekends, and/or day camp. Units participating in this program will earn 50% commission ($2.50 each) for each $5.00 card they sell.
The return policy for 2023 has changed so please make sure you order accordingly.
Units can return up to 50% of their unsold cards without penalty. After 50% you will be charged .50 per returned card to cover the production cost. Example: If your unit takes 500 cards and returns 260 you will owe $600 for the 240 cards sold plus $5 for returning 10 over the 50%= $605
The sale will kick-off on Thursday, February 9th, and conclude on Thursday April 13th.
If money is not returned at the April Roundtable, it must be brought to the Council office on or before April 21st by 4pm to receive full commission.
This year, we feel we have many wonderful local and national vendors to help make for a great sale for Scouts in your unit. The average potential of each $5.00 card to a customer is several hundred dollars over the course of a year!
| File Name | Description | |
| --- | --- | --- |
| 2023 Camp Card Guidebook | | Download |